During the press conference following the meeting between US President Donald Trump and Turkish President R. Erdogan, Erdogan put special emphasis on the H. Res. 296 (aimed at recognition of Armenian Genocide) passed by the House of Representatives. According to Erdogan, it ''hurt deeply the Turkish nation'' and assured that it would ''cast a deep shadow'' over the bilateral relations between the two countries and he had already shared his concerns with Trump.
It didn't take long for the administration to respond appropriately. A few legislators were present during Trump-Erdogan meeting including Lindsey Graham, who put a hold on the Genocide recognition S. Res. 150 in Senate, which resulted in non-inclusion of the resolution in the Senate agenda. Investigating Graham's financial sources and the connections with lobbyists we can single out a few important deals. We are presenting only those financing facts which have clear evidence. But these are only a part of a huge iceberg.
– Since 2016 Lindsey Graham has been actively financed by Turkish President R. Erdogan's cousin– Mutlu Halil. Mutlu Halil is a Turkish lobbyist, who was the chair of Turken Foundation and currently serves as co-chair of Turkish American Steering Committee (TASC). In 2014 he met with Indiana's former Governor and current US Vice-President- Mike Pence. This is the state were the Turkish lobbyists are working quite actively and it is not a coincidence that 4 congressman who voted against H. Res. 296 were from this state (we have discussed this fact in our previous publications). What concerns Lindsey Graham, it should be noted that he was financed not only by Mutlu Halil himself, but also by his wife- Mutlu Lynn. Overall, Lindsey Graham was financed in the amount of $10800 by these two. Moreover, Mutlu Halil is the one who financed Ilhan Omar, one of the 3 candidates who voted present for H. Res. 296, in the amount of $1500 on September 30, 2019.
-In 2016 Senator Lindsey Graham was also financed by the Turkish businessman Murat Guzel, who not only made contributions personally but also through his family members in the amount of $18.900. This very businessman financed other candidates as well through the company owned by him. Murat Guzel was the founding president of MUSIAD between 2014-2015, which in its turn supported Turkish American Steering Committee (TASC) to fight against the recognition of Armenian Genocide. Currently Murat Guzel is a founding member of the board of directors of the TASC organization. TASC and MUSIAD are Turkish organizations based in the USA, which were involved in anti-Armenian and anti-Kurdish lobbying. In 2016 Turkish president Erdogan promised to support these organizations. It's worth mentioning that Murat Guzel, who actively financed Senator Lindsey Graham, reported his activities to Berat Albayrak (Erdogan's son-in law, former Minister of Energy and Natural Resources of Turkey and current Minister of Finance and Treasury) as well as to Bilal Erdogan (the son of Turkey's president) and Ibrahim Kalin (Erdogan's press secretary).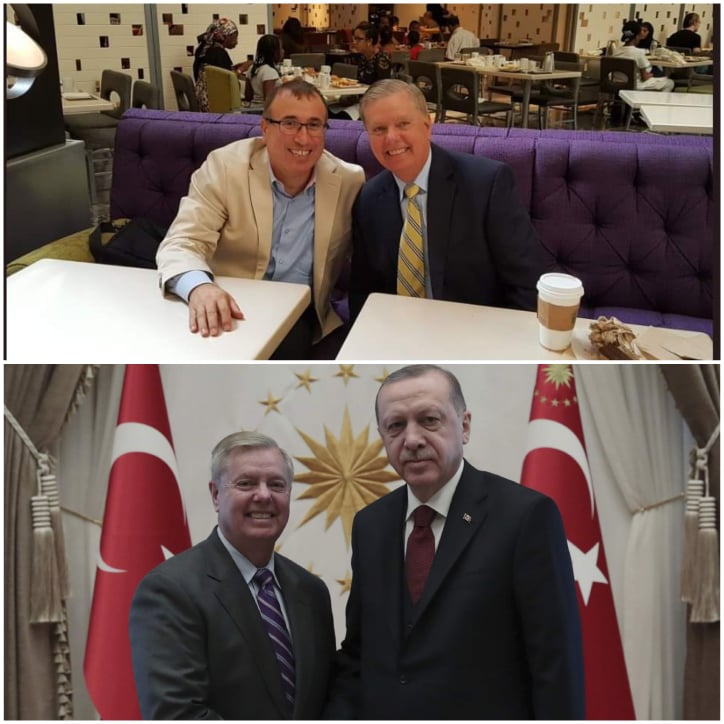 -In 2019, Lindsey Graham received financing in the amount of $5000 by the Turkish Coalition Northeast Political Action Committee.
-The representatives of Greenberg Traurig LLC- a lobbyist organization, have also been in active contact with Lindsey Graham. Greenberg Traurig LLC, has had a contract with Turkey for a few years, in the amount of $1,538,000 only for 2019, which, in its turn, contracted 3 other organizations on behalf of the Turkish Government. Greenberg Traurig maintains active ties with several congressman, including Lindsey Graham. Only in 2019, the representative of Greenberg Traurig LLC sent several emails to Lindsey Graham and his staff members and had two meetings with him on the issue of US-Turkey relations, as stated in official documents.

Sources